Lifestyle
15 Famous People Who Drive Domestic Pickups (5 Who Don't)
Many famous celebrities love driving good old American pickups, while others preferred to test the market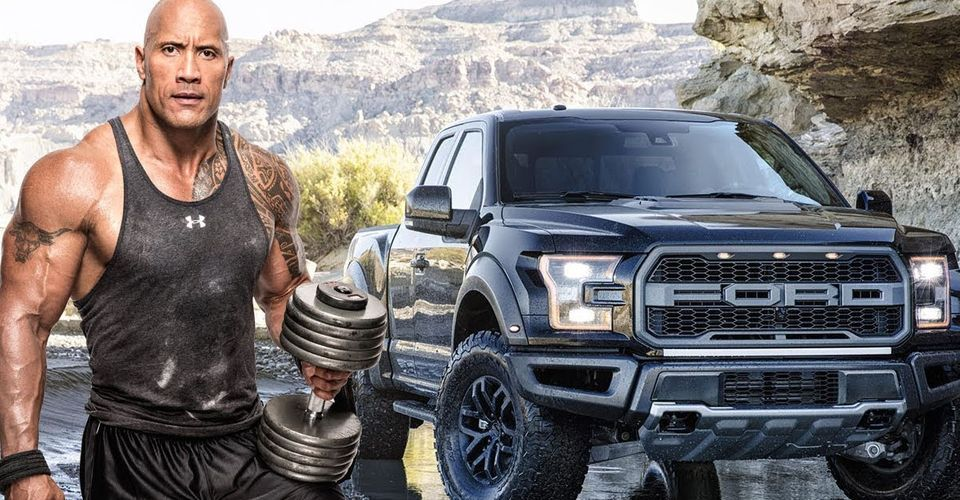 It's said that celebrities are just ordinary people when they're not on the movie set. This statement could be true if they didn't have such recognizable faces and a swarm of paparazzi chasing after them. Most of them drive their own cars, but the type of car is more important and interesting than the fact that they move from point A to point B on four wheels. Some of them have bought normal cars like a Ford Ka or a Nissan Leaf, some of them have expensive sports cars like the Pagani Zonda or the Lamborghini Aventador, but some of them have chosen to buy pickup trucks as their personal rides.
Keeping in mind that there are a lot of pickup trucks on the market, from the American models to the European ones, the possibilities to choose the perfect truck for each celebrity are unlimited. There are people who prefer to take an old and rusty car and make it brand new, or others who simply drive the old truck as it is, without any mods. Whatever model they own, it's really interesting to analyze what a celebrity would choose to drive other than the typical sports cars, coupes, hatchbacks, and sedans. This list wants to point out a few well-known people who went for classic or brand-new American pickups and others who wanted a European truck version for their daily drives.
20. Lady Gaga And Her Ford SVT Lightning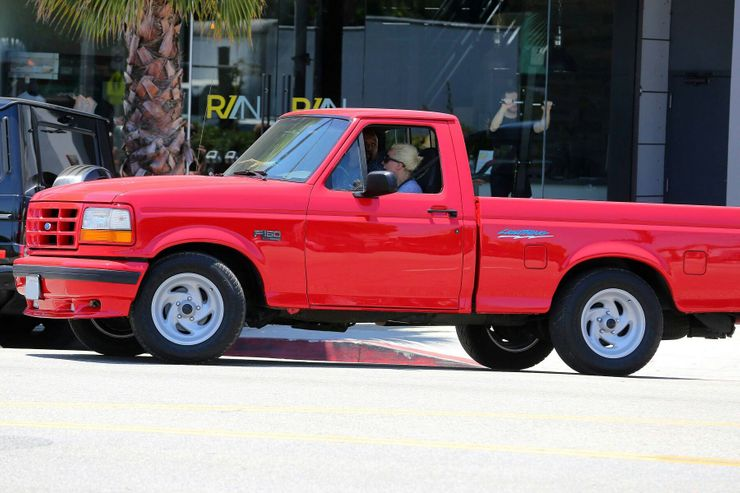 In 2016, Lady Gaga received her driver's license and also bought her own fiery-red personal use car. She was also pulled over a few weeks later because she was driving her new acquisition without the license plates.
She chose to buy a beautiful Ford SVT Lightning performance pickup as her daily ride.
An interesting choice because this particular model was the street-rod predecessor of the off-road focused Raptor. The 1993-1995 pickup was offered with a 5.8 litre V8 engine that produced 240 horsepower, along with a heavily-modified frame and a suspension that improved handling, according to Ford Authority. For a beginner in the art of driving, Lady Gaga surely knew what to buy.
19. Channing Tatum And His 1957 Chevrolet 3100 Pickup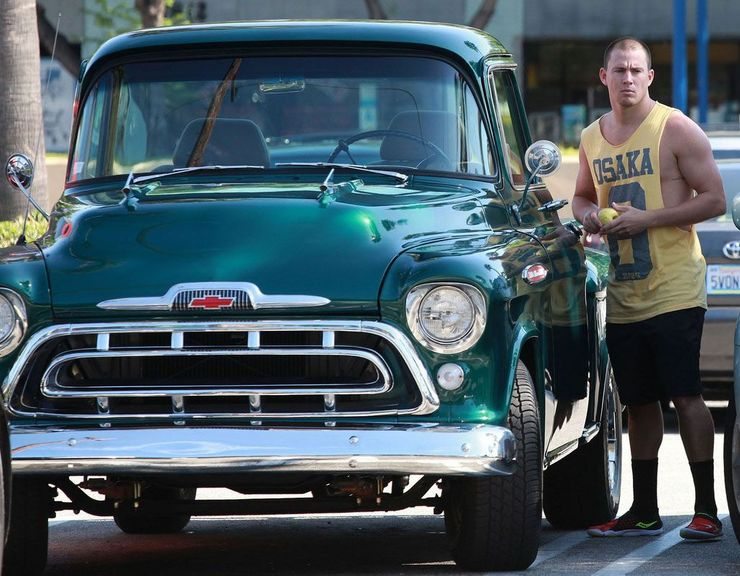 In 2014, well-known actor Channing Tatum was seen driving a 1957 Chevrolet 3100 Pickup truck on the streets of Los Angeles. He's famous for his roles in movies like White House Down, 21 Jump Street, 22 Jump Street, Kingsman: The Golden Circle, and more. The Chevy in the picture is worth $50,000, and it's quite an awesome choice for a Saturday drive for shopping, according to Daily Mail. Before getting into the movie scene, Channing Tatum had given up college learning and had started working as a roofer, continuing his father's legacy, who also had a job as a construction worker.
18. John Mayer And His Ford F-550 EarthRoamer XV-LT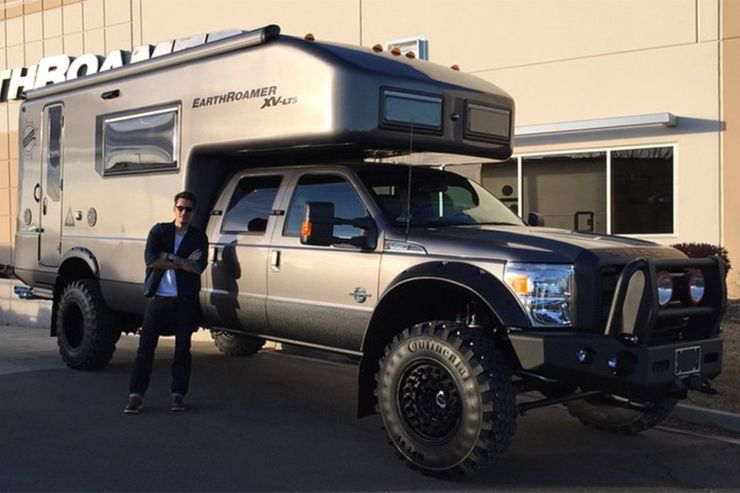 According to Motor1, this off-road vehicle was built by a group of innovative and inspired people from Colorado calling themselves "Earth Roamer". They've designed two types of such extreme vehicles perfect for expeditions, the XV-LTSs and the XV-HDs, the first ones being the roughest of their products.
American songwriter and singer John Mayer was one of the customers who were interested in such a pickup truck/camper van.
When he finally bought it, he was so excited that he posted a photo on social media with it in front of the Earth Roamer facility. This Ford F-550 that packs a 6.7-liter V8 engine with 300 horsepower, along with its living space extension, measures "only" 26 feet in length, so it cannot pass by without being seen by every paparazzo in town.
17.Jake Owen And His Ford F-250 Diesel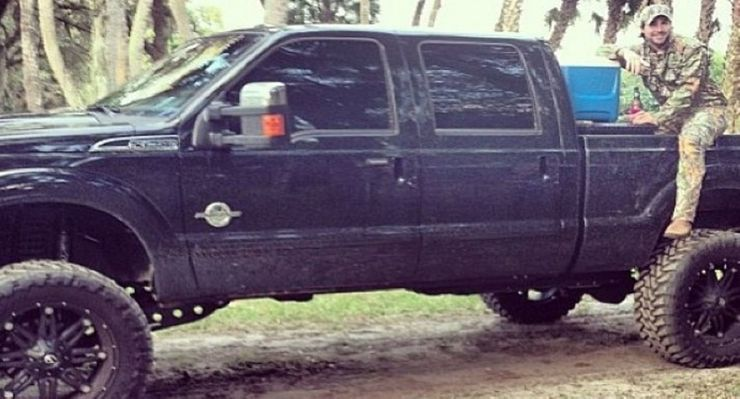 Jake Owen is a country music star who seems to love pickup trucks. At his wooded retreat in Nashville, a beautiful Ford F-250 Diesel can be seen parked outside (according to People magazine). The hit that brought him his livelihood also managed to bring him his new ride. In the music video for "Eight Second Ride," he used a Ford F-250 pickup truck, and this was only the beginning. With a beautiful wife and a sweet daughter, the singer has also managed to realize another dream: a pickup that would meet his taste, which he achieved by buying this off-road beast.
16.John Goodman And His 2000 Ford F-150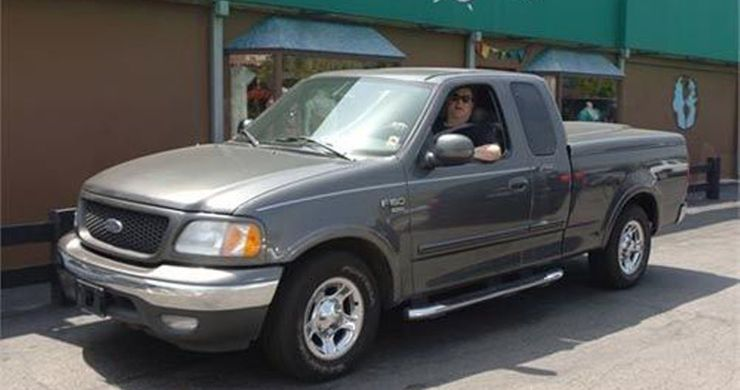 John Goodman, one of the most famous actors the film world has ever seen, is one of those people who appreciates old pickup trucks. He had a lot of roles in various TV series and films, and he's known all over the world, according to Ford Trucks. However, another thing that made him renowned was his beautiful ride: a 2000 Ford F-150.
Not all celebrities prefer to buy a new and shiny car, and John Goodman is the perfect example.
He chose an older truck model because he definitely feels great driving it. He looks quite pleased sitting in the driver's seat.
15. Alice Walton And Her Ford F-150 King Ranch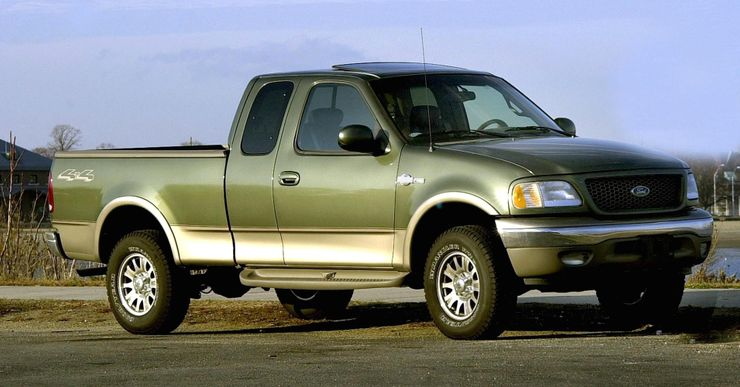 Alice Walton is one of the heirs of the Wal-Mart fortune, and in 2017, she became the wealthiest woman on Earth (when Liliane Bettencourt passed away last year). She chose to drive a 2006 Ford F-150 King Ranch that can be had for the price of $40,000, according to CNBC. This car has sentimental value for her because Sam Walton, her late father, who was the founder of Wal-Mart, owned the 1979 version of this model until 1992, when he passed away. She surely wants to keep his memory alive through her beautiful and precious pickup truck. It is nice to see a woman of such wealth and status still be able to appreciate the sentimentality of her dad's truck model.
14. Scott Disick And His Ford F-150 Raptor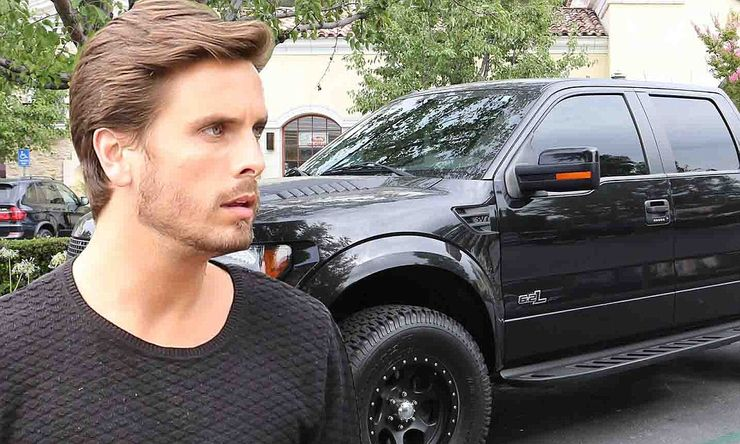 Scott Disick became a celebrity when he started dating and breaking up with Kourtney Kardashian over and over again. He's one of those celebrities who own more than one car, but his collection includes a beautiful custom-made Ford F-150 SVT Raptor, along with a Lamborghini, a few Rolls-Royce models, an Audi R8, more than one Ferrari, a Chevrolet Camaro, and a Bentley. Impressive to say the least!
But the pickup truck doesn't quite fit into the picture.
This is mainly because it isn't yellow like the other cars, according to Ford Trucks. However, the reality TV star seems to enjoy driving around Calabasas in his new acquisition.
13. Toby Keith And His 2015 Ford F-150 Platinum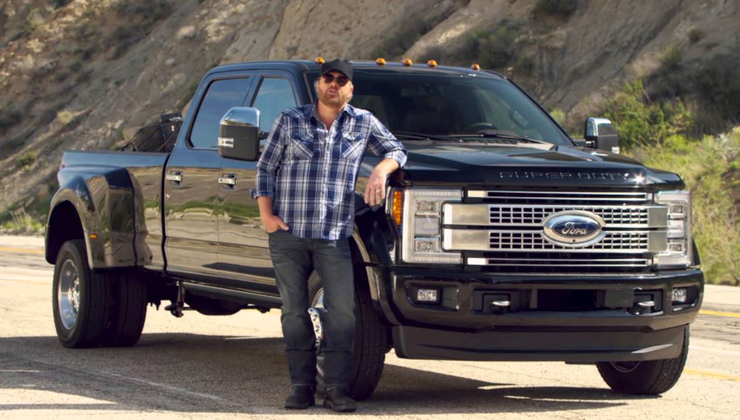 Country music star Toby Keith doesn't seem to want to drive any other pickup truck that doesn't have a Ford logo slapped on the grill, according to Days Of A Domestic Dad. In March 2015, he bought a new car. More specifically, he bought a 2015 Ford F-150 Platinum from a Ford dealership in Oklahoma City. He simply loves the 360-degree camera and the automatic tailgate. The new truck should've been used for sliding, mudding, and hunting as he had mentioned back then. In 2016, Toby Keith was the spokesperson who offered a sweepstakes grand prize: a 2016 Ford F-150, according to Ford Trucks.
12. Jesse James And His Ford Hennessey VelociRaptor 575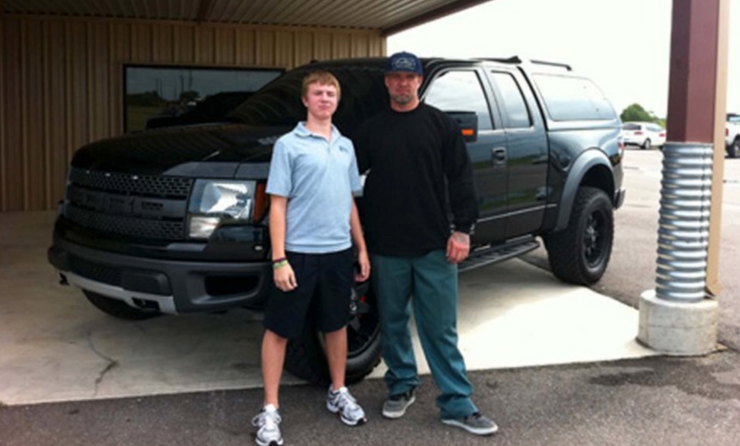 Jesse James, the former owner of the West Coast Choppers and ex-husband of Sandra Bullock, and now a producer of guns and stuff, bought, in 2010, a stunning Ford Hennessey VelociRaptor 575 with a special tuneup kit that was worth $11,000 back then.
According to Top Speed, there's also a video with a dynamometer test of this pickup beast done at the Hennessey "labs".
The test showed a result of 496 horsepower and 473 lb-ft of torque, and the sound of the engine was amazing. He sure knew which truck to choose. Each custom-made pickup truck is unique in its own way.
11.Scott Caan And His 1950 Ford F Series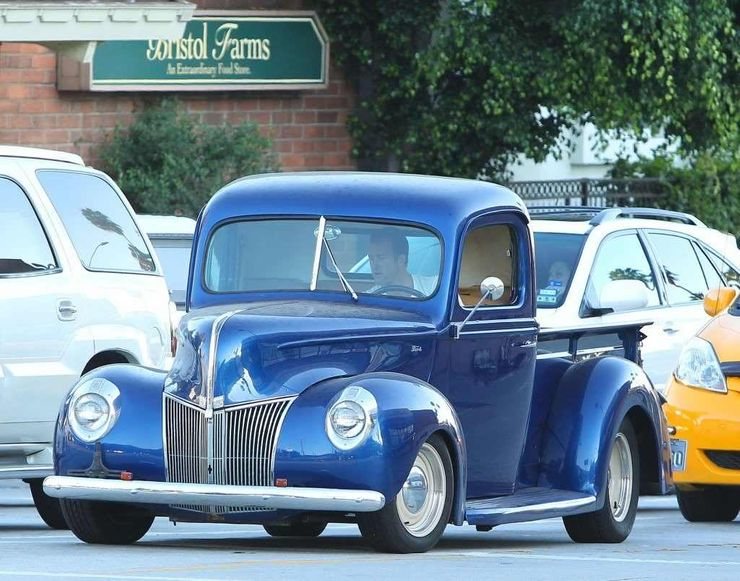 Actor Scott Caan is well known for his roles in Entourage, Hawaii Five-0, and of course, the Ocean's Eleven trilogy. He, along with his dog in the passenger seat, was spotted in Los Angeles behind the steering wheel of his vintage 1950 Ford F Series. The classic blue fully restored truck is a perfect fit for the actor, according to Ford Trucks. The fact that he drives a classic pickup truck means that he clearly appreciates American automotive history and prefers a vintage ride instead of a new one, despite the fact that he can likely afford new rides anytime. Although, the restoration of this truck likely costed a pretty penny to begin with.
10. Prince Jackson And His Ford F150 SVT Raptor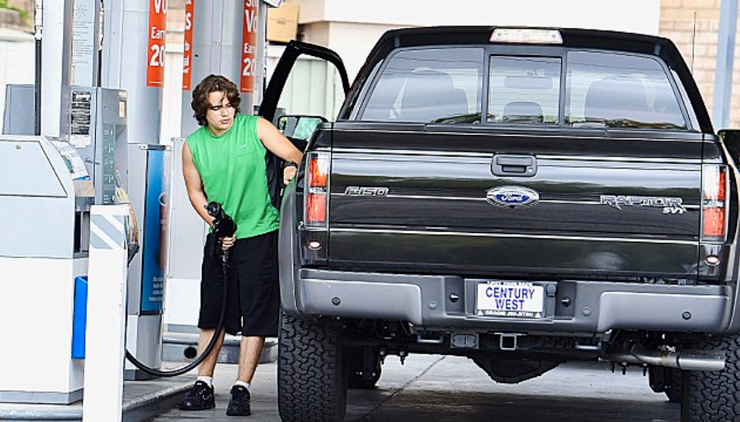 One of the sons of Michael Jackson and an heir to his fortune, Prince Jackson chose to buy himself a black Ford F150 SVT Raptor instead of a flashy sports car. He probably decided that this would be the best car for his needs.
What he didn't take into consideration was that the custom fog light tint or the illegal strobe lights from the front grille would bring him a costly ticket.
However, his taste in cars is perfect because this pickup truck is definitely an amazing one. Judging by its performance, its looks, and most of all, its off-roading abilities.
9. Glen Plake And His Ford F-350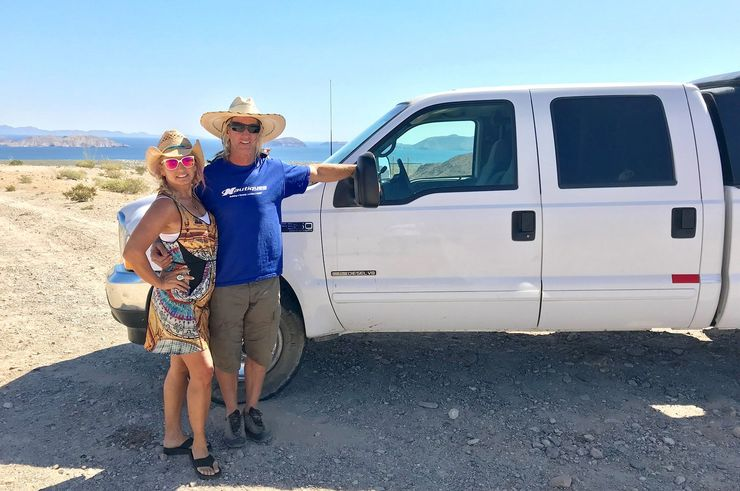 Glen Plake, the world famous skiing icon, has a history of participating in races on a local race track in Baja. It's also known that he works on his own cars. This year, he started to offer a few of his car skills in a TV show called "Truck Night in America" presented on History channel. The contestants from the show should be able to build trucks and compete in different challenges. Glen Plake has got a lot of rides, but none of them were new when he bought them. He prefers his Ford F-350 and the 1986 Chevrolet C30 for daily drives, according to Motor Trend.
8. Rick Dale And His 1951 Ford F100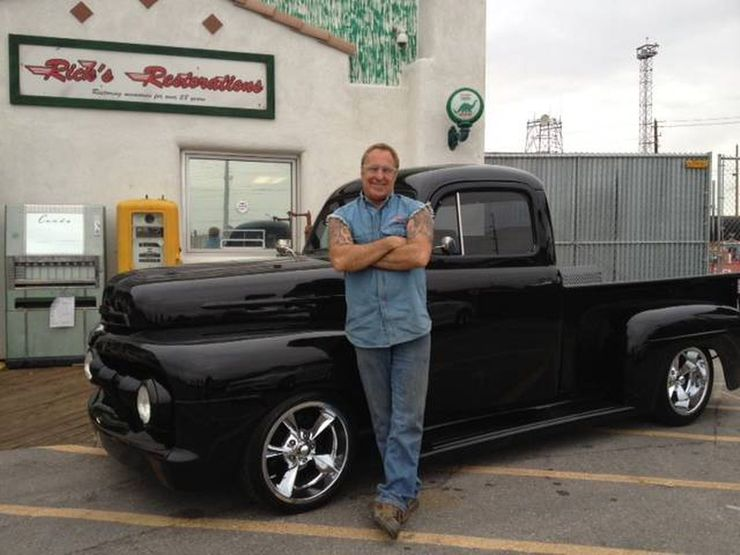 Rick Dale is the host of the American Restoration TV show on the History channel, according to Truck Trend. He can restore almost anything on wheels, including both trucks and cars. Much like the star of the show: the 1951 Ford F100, which is his daily driver. The truck isn't actually finished yet.
The restoration process started 15 years ago, but because of the huge amount of work needed it was hard to find time to complete.
When the TV show began, Rick thought it would be perfect to finish his masterpiece, so he made a few mods and gave it a great paint job, but it still needs a few things. However, it's the pride of the show.
7. Dwayne Johnson And His Ford F-150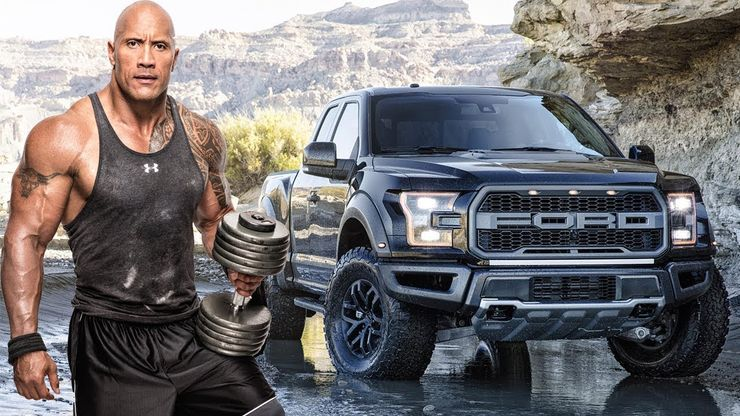 The producer, actor, and former professional wrestler Dwayne "The Rock" Johnson has an affinity for pickups because he cannot fit inside any of the supercars produced by Ferrari or Lamborghini due to his size, according to The News Wheel. He joked about this on his Instagram account after he posted a picture with his customized Ford F-150 and a private jet at one of Georgia's airports. His pickup truck was custom made by California Custom Sport Trucks and is fittingly called "The Bull". The mods include a custom aggressive hood, a custom matte-black grille, a lift kit, an upgraded sound system, and a 5-inch dual exhaust system. Quite an impressive list to say the least.
6. Colin Farrell And His Ford Bronco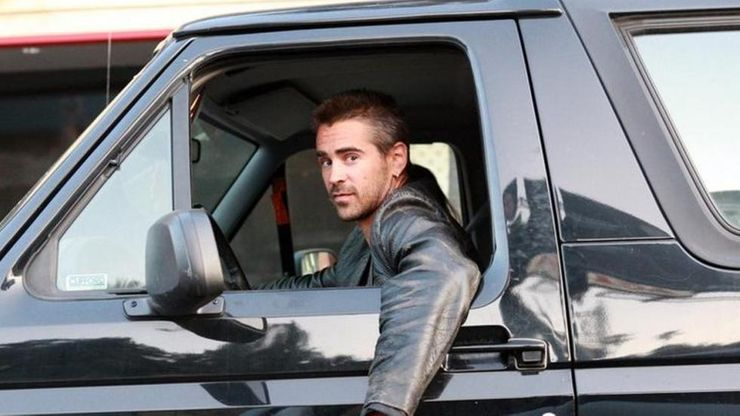 Believe it or not, Colin Farrell drives and owns a 1996 Ford Bronco pickup, according to Jubilee Ford. Having in mind that there are also other celebrities who prefer to modify an old Bronco than to buy a new car, this could only mean one thing: the stars prefer to go a little bit undercover in older rides, but they'd also like to make them look better.
Colin Farrell is one of these guys who don't like to show off their rides or to stand out from the crowd in such a way.
Though the Ford Bronco is definitely eye-catching wherever it goes. He loves his car.
5. Devin Logan And His 2012 Toyota Tacoma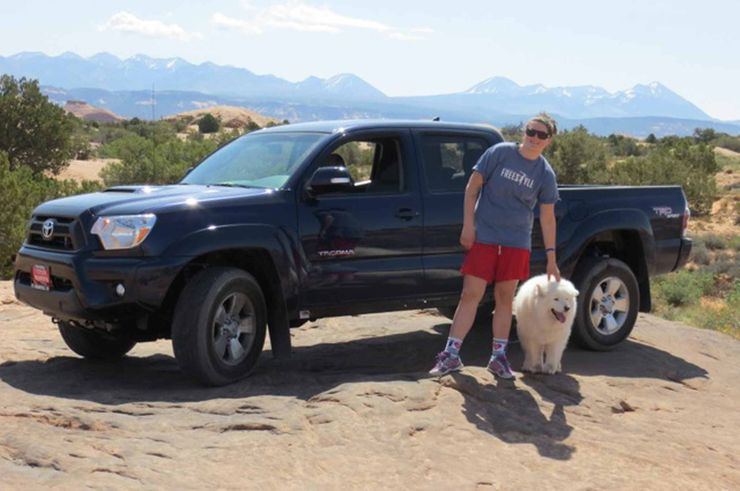 U.S. Olympic free skier Devin Logan prefers the Asian version of a pickup: specifically the 2012 Toyota Tacoma. She considers this model her dream car, and with its help, she can manage to travel through the snowy places where she trains and also lives, more exactly in Park City, Utah, according to Motor Trend. As an Olympic free skier, Devin needs to have a lot of room for luggage when she goes on ski trips. She also wanted to fit a snowmobile into the bed of the pickup truck, and the size of this particular model was simply perfect. Devin just loves her truck, no matter where it's from.
4.Rutledge Wood And His 2008 Toyota Tundra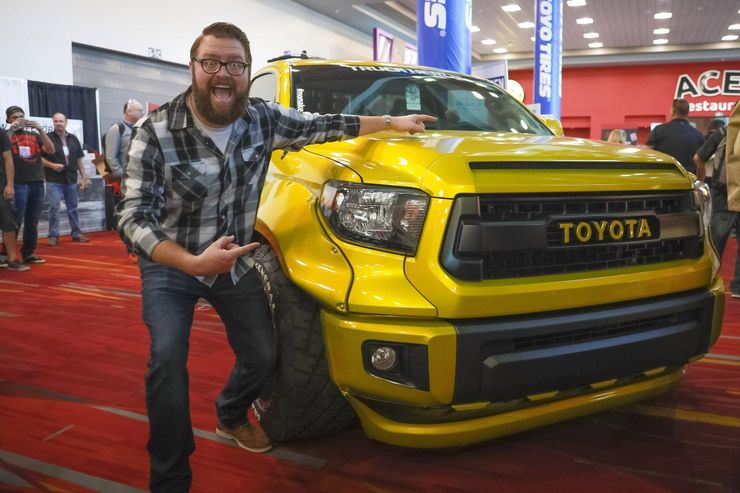 Rutledge Wood is the host of the U.S. version of the well-known TV show called "Top Gear." His favourite ride was chosen from a long list of pickup trucks and old Japanese cars.
However, his daily drive at the moment is a 2008 Toyota Tundra CrewMax.
He mainly bought it because he enjoys driving it and also because he has two kids, so he needs a lot of room. Wood equipped his ride with a set of Hankook DynoPro ATM tires to support Foust, his co-host, according to Truck Trend. If he sells the Toyota, he'd like to buy a Ford Raptor because he believes it's an indestructible pickup, but he hasn't decided what to do yet.
3.Sean Penn And His Nissan Titan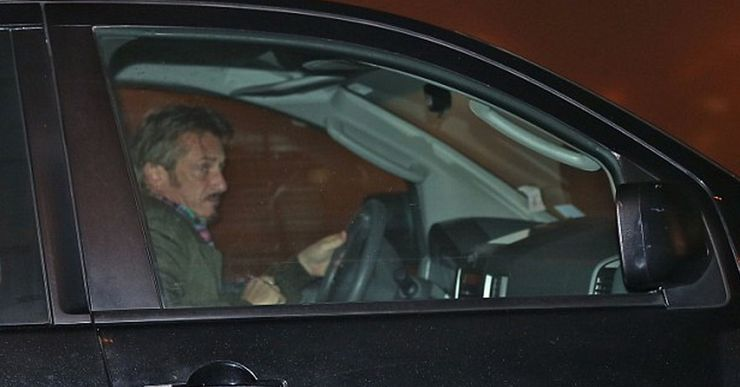 With such a long list of cars from which he could choose, the well-known American actor and filmmaker Sean Penn thought it would be great to drive a Nissan Titan. The irony is that this model was chosen as the 2015 Truck of Texas even if the Texans have got a lot of pride when it comes to their pickups, according to The Drive. Despite the fact that it's a Japanese truck, it's also known for its quality performance and the fact that it's tough and rugged. If one takes care of the rust issue, this car can last for many years without failing.
2. Kristen Stewart And Her Toyota Pickup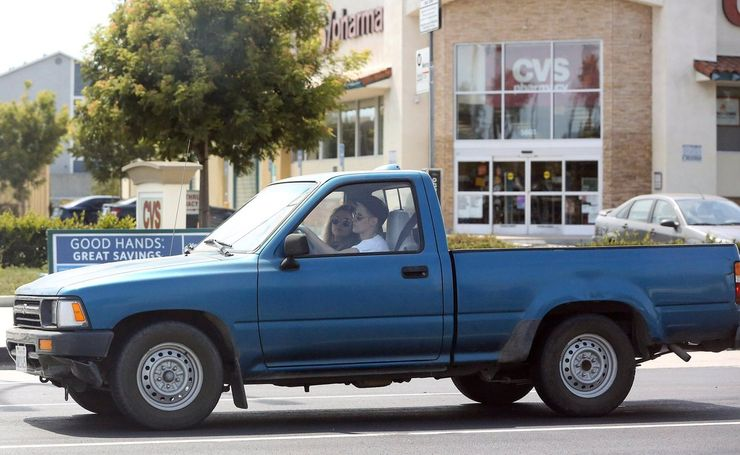 It seems that the actress Kristen Stewart likes old pickups, despite the fact that she could simply buy a new one directly from the dealership. With paparazzi everywhere, she may feel better with an old car that doesn't stand out from the crowd. Her old blue Toyota pickup is in quite good condition for a 1990s car, and it looks like she really enjoys driving it. There are also celebrities who appreciate history and would like to buy an old car just to see it restored to its former glory. Not all people prefer to drive a luxurious ride.
1. Christian Bale And His Toyota Tacoma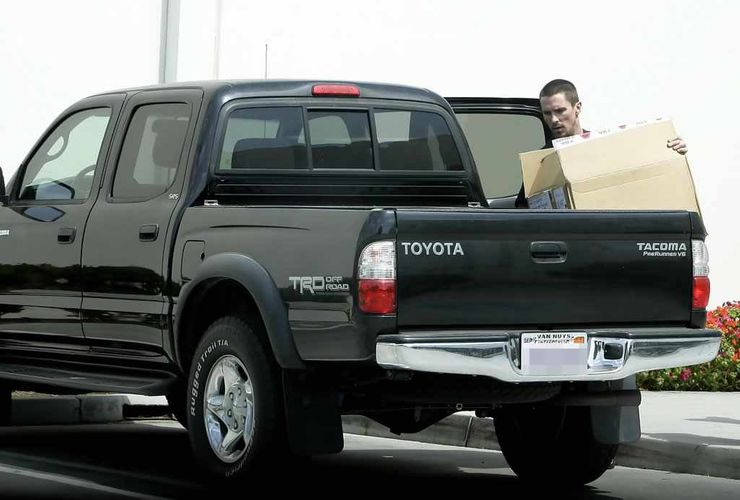 Here's another celebrity with a Toyota Tacoma. Christian Bale chose this type of pickup as his daily driver over the powerful and fast Batmobile. It seems that stars can also have a personal life and normal reactions to things that happen in society. The Toyota Tacoma is a very interesting car and, of course, a very good one, judging by the great feedback it has. It's really nice to see that celebrities appreciate normal things and care about stuff in general. The Toyota Tacoma represents an icon for its class, and it should be explored and tried by more people.