Lifestyle
20 Celebrities And Their A-List Cars
They say that celebrities are "just like us". Aside from the fact that many have recognisable faces, assets or voices, it's fair to say that by definition they also have more wonga than us ordinary Joes, which means they can pretty much buy whatever cars they want. Some of their choices are fantastic, some of their choices may surprise you and some of their choices are just plain stupid in my opinion. Here are 20 stars and their recent choice of cars:
1. Charlie Sheen
The Mercedes S Class has to be one of the coolest cars ever since this man owns several of them. He also has a BMW X5 and a Maserati GranCabrio. Winning!
2. P Diddy
Seen here in 2009 in a Lamborghini Gallardo Spyder. Interesting that he chose a silver paint job. I personally expected gold, chrome or orange not a subtle silver.
3. Tulisa Contostavlos
Like all the other X Factor UK judges, Tulisa from N-Dubz is seen here getting out of the back of a Jaguar XJL and, like P Diddy, it is rumoured that she also owns a Lamborghini Gallardo Spyder but in white.
4. David Beckham
While the X Factor judges get chauffeured in XJs, David Beckham is seen behind the wheel of his XJ Supersport. The most expensive and fastest XJ with a supercharged 5L V8 and prices starting at £91,000 (£3k more if you want a long wheelbase one).
5. Paris Hilton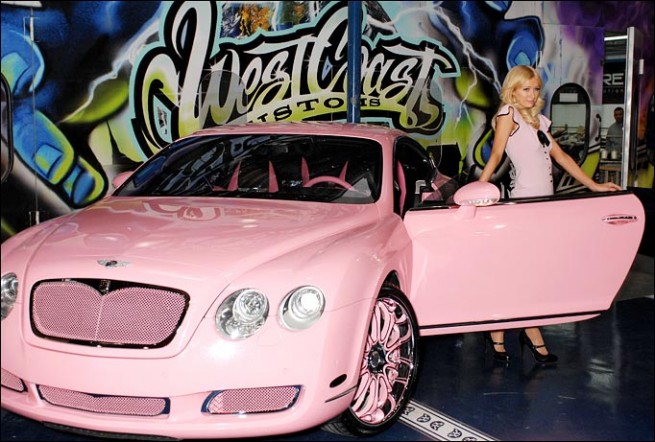 I don't think I can ever forgive Paris Hilton for wanting her Bentley Continental GT to look like this. Thankfully, it wasn't Bentley that allowed this to happen, it was West Coast Customs! Fellow Pimp My Ride Fans will know who I'm on about.
6. Sara Cox
I didn't expect this one! Radio 1 DJ Sara Cox is seen here beside her Audi RS4. I love it when ladies have cars like this. A completely opposite approach to Paris Hilton's wheels.
7. Vernon Kay
Another Radio 1 DJ, this one has a Nissan GTR! I'm starting to like these Radio 1 DJs purchases.
8. Jeremy Clarkson
A lot of Top Gear fans will already know what Clarkson owns which is a Mercedes CLK AMG Black Series. This one is the press car though. His one is black. He also currently owns a Range Rover (the one with a big bird dropping on it), a Mercedes 600 Grosser and a 2002 Mercedes CL600 which I think is still broken.
9. Chantelle Hougton
My reaction was 'what on earth?' (or words to that effect) as well! This is a former Big Brother contestant trying to put a Christmas tree into the passenger seat of her Audi TT roadster. Mad.
10. Wayne Rooney
I doubt he still has this but he was the Ford SportKa's one and only celebrity customer. The SportKa was 'the Ka's evil twin' and was made between 2003 and 2008, when the next generation Ka was introduced.
11. Brian Johnson
How can you be one of the world's biggest rock stars and not have a car like this?! Here's the AC/DC singer with his Rolls Royce Phantom Drophead.
12. Simon Cowell
In the X Factor USA trailer, he had a nightmare where he said all the contestants where great and that he owned a Chevrolet Volt. He then woke up and realised he hates X Factor contestants and has a Bugatti Veyron. £1 Millon on wheels!
13. James May
A screenshot of May showing the Top Gear fans his and Hammond's Porsche 911s. May's most famous purchase is his Fiat Panda, which I think he still has, and Hammond sold his Morgan Aeromax back in March.
14. Carmen Electra
Nice. Model and actress Carmen Electra washing her Dodge Challenger. This is a muscle car based on the Chrysler 300c with a choice of engines ranging from a 3.5L V6 to a 6.4L HEMI V8 introduced this year. You're still staring at the picture fantasizing aren't you?
15. Louis Walsh
He may think those X Factor UK finalists Jedward and Wagner are brilliant, which I don't like, but he also thinks his Maserati GranTurismo is brilliant too, which I like! The latest GranTurismo comes with a 4.2L or 4.7L V8.
16. Michael McIntyre
Comedian Michael McIntyre seen here with his Jaguar XK convertible which he bought last year. Before he was famous he owned a Triumph Spitfire and an Austin Metro.
17. Ryan Thomas
Adnan wrote about the Project Kahn Range Rover at the beginning of the month and it turns out Ryan Thomas (the one that plays Jason in Coronation Street) has one.
18. Hugh Grant
As he famously said on Top Gear, Hugh Grant either has "tosser's cars" or "great big w**ker's cars." This is his most recent purchase, an Audi R8. Judge for yourself which Hugh Grant class this falls under.
19. Sir Paul McCartney
Former Beatles member Sir Paul McCartney with new wife Nancy Shevell in a Corvette C6 Convertible. Very Rock 'n' Roll. The latest range of Corvettes have a 6.2L V8 or a 7L V8 in the Z06 version. Sir Paul has also been seen recently driving a Lexus LS600h.
20. Rowan Atkinson
Actor Rowan Atkinson said in an interview that he was going to order his own Rolls Royce Phantom Coupe after filming Johnny English Reborn with the special edition 9.0L V16 one. He also famously owned a McLaren F1 since 1997 although it's under repair after a serious accident back in August. So there you have it, a wide range of how some celebrities have spent their earnings. But what cars would you get if you had their kind of cash?