Lifestyle
Check Out The Rides Of These Famously Hot Celebrities
Gigi Hadid and Her BMW M2
The spokesperson of a car brand naturally drives that particular brand. While Tiger Woods drove to golf courses in a Buick, Gigi could be seen driving in town in a BMW. She is the same girl who had won a lifetime's worth of Model of the Year Awards at the age of 20 in 2015. BMW saw no better way to release their M2 than with a renowned starry eyed model clad in a red dress. Millenials can't stop salivating over this car and for a good reason. It can move you from 0 to 60 mph in 4.0 seconds and delivers 365 horsepower. You get all these and more for $52,000. Not a bad deal when you look at it from a famous model's point of view.
Victoria Beckham's Range Rover Evoque
Let's leave the young and hot for a moment and see what the elegant distinguished Victoria Beckham drives. This charming wonderful lady was chosen by Range Rover to promote their classy SUV. Well, they couldn't have made a better choice in a British car maker spokesperson. For quite some time, Victoria drove nothing but a Range Rover designed to her taste by the automaker. In fact, Range Rover commissioned her to customize the car's interior and exterior design to match the former pop star's style. There were only 200 of this model made and each cost twice the amount you would pay for a base model. After doing 1400 km in a period of three years, Victoria finally sold hers a few months ago. Of our hot celebrities, Mrs. Beckham is likely the only one that really deserves recognition because she actually DESIGNED her car, unlike the rest of these female celebrity car enthusiasts who just bought them instead.
Amber Rose's Jeep Wrangler That Comes In Pink Chrome
You must have noticed, so far, that pink is all rage among female celebrities. Amber Rose loves pink too. She drove a pink Jeep Wrangler a few years ago. But what did the gorgeous girl need to do to make her ride stand out? Well, she added chrome to the car's paint scheme making hers the only electric pink jeep in the world. However, if you took a step back and paid close attention to the difference with an open mind, you'll agree that the new version does indeed look better. It is a nice modest car fit for a talented young girl who sings and designs eyewear at the same time.
Amber Heard's 1968 Mustang
What's more cool than a thirtyish young girl who features in a car enthusiast's best movie Drive Angry before she goes on to recondition some mean muscle car? Well, that's Amber Heard for you. If truth be told, she didn't restore the muscle car. It was a major feature in the last season of the Overhaulin' series which is all about restoring cars and playing pranks on unsuspecting individuals whose cars are getting restored. In this particular episode, Johnny Depp informs Amber that her ride has, for the third time, been stolen. Amber goes on a screaming rage shouting to a police officer, "Get my car back!" The officer doesn't seem very concerned, and as the gorgeous lady becomes more agitated, the restored classic that she bought using all her teenage savings is presented to her in all its glory. This may be probably the last best-time moment she had with Johnny Depp.
Jodie Kidd's Jaguar F-Type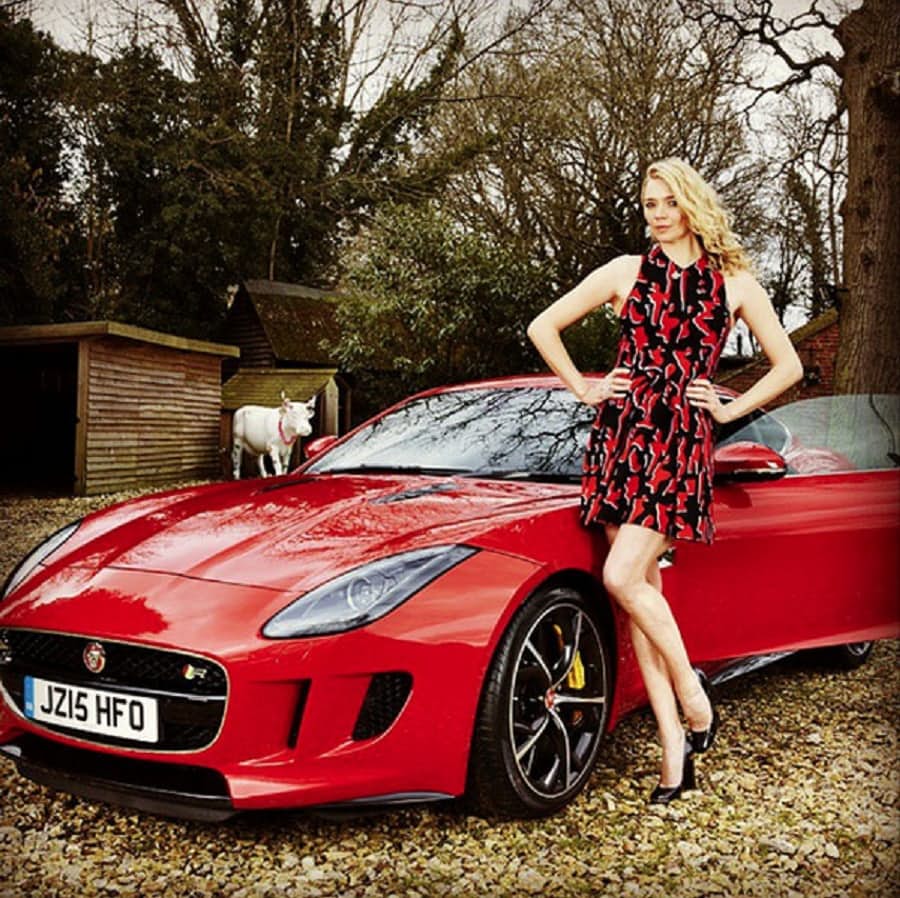 This is another busy girl who does plenty of things, including fashion modeling, show hosting, and race car driving. You'll remember her as Top Gear's record holder for doing the fastest Celebrity Lap in the Suzuki Liana while drivingin her Maserati. Her love for fast cars has seen her doing great things in many racing gigs as a driver and at times as a spokesperson.
Did you know that Jodie was once a Polo player too? You'd not be mistaken to believe she grew up amid plenty. She even had her own grand collection of cars, but gave up a few, along with her modeling career, at the age of 35, to concentrate more on raising her children. However, she retained the beautiful model you see here, a Jaguar F-Type that costs about $140,000 and comes with a 5-liter supercharged V8 engine with an output of 575 horsepower and capable of going from 0 to 60 mph in less than 4 seconds.
Amy MacDonald's Ferrari 458 Speciale
Yet another stunning car choice to put our other hot celebrities to shame. Who would blame a young girl who has just made it big in the music world when she goes out and spends almost a fifth of her fortune in such a car? You would do the same in her shoes. The car is one of the most powerful V8s in the supercar market. It is a 597 horsepower street car that can do a 0-60 mph in less than 3 seconds. Its price tag hovers between $300,000 and a million dollars depending on the options you choose. We can safely assume she ordered Ferrari to fix everything available on this thing at a premium cost. She could afford it. After all, she had three bestselling albums to her name. We sincerely hope she continues to sell more to keep up with this taste in cars.
Kylie Jenner & Caitlyn Jenner With A Ferrari 458 & Porsche GT3 RS
What about this duo of female celebrity car enthusiasts? You wonder why there doesn't seem to be excitement in the girls' eyes when they are in the presence of two hot cars, probably because they already own the rides. But who wouldn't be excited to spend $120,000 on the best German super fast cars that can outgun even the most expensive Italian model? I guess the lack of enthusiasm is because they chose the color purple. Really, purple on a $150k ride? We can only speculate and say their choice of unique color is justified bearing in mind that almost everyone adorned in a skirt in Hollywood drives the same Ferrari, Bentley, or Lamborghini Aventador.
Well, the pale blue paint job on the Ferrari is not that bad, considering that a majority of celebrities in Hollywood would have painted it in screaming pink. Cheers Kylie for being different. The girl also owns a Mercedes G-Wagon, a Range Rover, Rolls Royce Wraith, and another Rolls Royce Ghost. What a cool taste you got, girl!
Blac Chyna's Lamborghini Huracan
Now here is a girl who's got taste. She owns one of the latest and grandest Lamborghinis, the Huracan. The question on your mind is what exactly she does to afford such a ride. She owns a beauty bar that also provides make-up courses. If you think that does not make enough to warrant such a car then be informed that she had a successful modeling career that spanned two years. If you still believe that is not long enough to afford the car, keep in mind that she hangs with the Kardashians, which makes you money in ways we too cannot fathom. If that is still not enough, then just know that she never bought the car, but got it as a gift from Rob Kardashian. What does Rob Kardashian do to make enough money to gift someone a Huracan? We don't know. What we know is that the Huracan is an awesome piece of auto engineering capable of going from 0 to 120 mph faster than many cars can ever do 0 to 60. It's a 610 horsepower marvel worth every penny Rob spent.
Setorii Pond's Just About Everything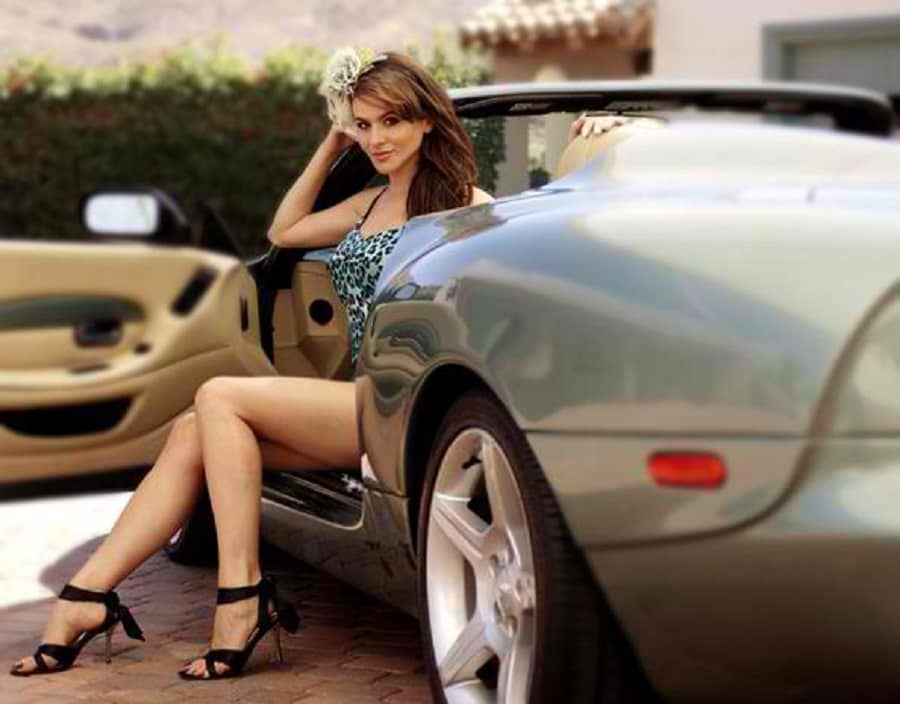 This car queen from California has a stable of cars. She owns everything covered in this list and more. She actually buys and sells them at will. Her car collection is on an ever-changing carousel. We could have given you a glimpse of her current collection of classic Ferrari, Mercedes, Aston Martin, and Jaguar, but this Navy brat simply stole the entire show or article if you may. It looks the same as the modern Jaguar. The car collection in her stable actually came from her grandfather, but her looks are definitely from her beautiful mother. She gives us the best combination of beauty and cool cars. With a collection that could make Jay Leno blush, Setorii Pond deserves her place at the top of this list of hot celebrities.